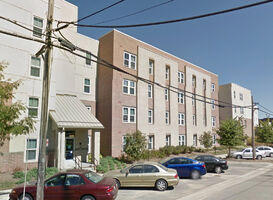 NicThic Productions is an American-Canadian animation company and film distributor based in Valparaiso, Indiana in the U.S. and in Selkirk, Manitoba in Canada. Founded by D.A. Nichols and Abbey Thickson in April 2005, the studio is an independent studio run by Nichols and Thickson. NicThic creates animated feature films, short films, television series, and video games, which are mostly centered around children, teens, and early young adults. The studio has currently produced a total of 68 feature films, with its most recent being Penelope Pitstop (2020). It is also best known for its franchises including Fox's Island, Ash & Lance, Bad Kitty, Skippyjon Jones, and later sequels of Rock Dog.
Its subsidiaries include NicThic Cinemation Studios, NicThic Interactive Studios, NicThic Home Entertainment, Lyrick Studios, Shadow Projects, Nickson-Graf Enterprises, and a 50% share of Mandoo Pictures.
On November 1, 2019, Harmonic Entertainment announced their intent to acquire NicThic Productions, with the acquisition completed on January 2, 2020.
History
2005–2006: Founding and early years
NicThic Productions was launched by D.A. Nichols and Abbey Thickson in April 2005 after leaving NT Animation, which Nichols founded in 1996. Their first feature film, Fox's Island, was released on August 12, 2005. Its title character, Rocko, had become a mascot of the company since his introduction in 2005. The studio retains ownership of the NT Animation library.
In December 2006, NicThic announced a four-year deal with Blockbuster Video to give the video renting company exclusive rights for rentals starting on January 1, 2007. However, under the First Sale Doctrine of U.S. copyright law, other rental companies are able to rent copies of the company's films purchased at retail.
The company is the main producer of Arctic Wolfey, which produced the show's third through ninth seasons.
NicThic Interactive Studios is the video game publishing and development arm of NicThic Productions founded in 2006 as a subsidiary. It is best known for publishing the video game adaptation of Fox's Island.
2007–present: Anime distribution
On February 11, 2007, NicThic Productions announced that it will start distributing anime films, and would also include an English dub cast as well. The first anime to have an English dub was the 1993 film Ocean Waves in 2008.
2011–present: Expansion
In 2011, NicThic formed a larger animation studio, NicThic Cinemation Studios, based in Indianapolis, to produce larger films. NicThic remained at NT Animation's original location in the Vale Park Village until December 2011 when they moved to the Uptown East Apartments in Valparaiso.
2020–present: Acquisition by Fredbear Studios
Main article: Acquisition of NicThic Productions by Fredbear Studios
Name
The company name comes from the first letters of the last names of the company's founders. "NIC" comes from D.A. Nichols and "THIC" comes from Abbey Thickson.
Subsidiaries
Current
Former
Filmography
Feature films
Released films
Main article: List of NicThic Productions films
Title
Release date
Distributor
Fox's Island
August 12, 2005
Paramount Pictures

Life Before Paradise

April 28, 2006
Buena Vista Pictures (through Walt Disney Pictures)
Bad Kitty
July 21, 2006
Universal Pictures
Road Rovers
September 15, 2006
Warner Bros. Pictures
Maxwell & Friends
January 19, 2007

Hollywood Pictures

The Art Appreciation
April 20, 2007
Warner Bros. Pictures
War Chicken
April 11, 2008
Walt Disney Pictures
Skippyjon Jones's First Movie
May 16, 2008
Warner Bros. Pictures
The Gift of Winter
August 1, 2008
Touchstone Pictures

Blueberries for Sal

November 21, 2008
New Line Cinema
Pinkalicious
May 15, 2009
New Line Cinema
A Bad Case of Stripes
August 21, 2009
Universal Pictures

Pearl & Wagner: One Funny Day

November 20, 2009
Universal Pictures
The Fire Cat
April 16, 2010
Warner Bros. Pictures
Fox's Island 2
June 11, 2010
Paramount Pictures

Pearl & Wagner: Four Eyes

July 16, 2010
Universal Pictures
Bad Kitty 2
August 20, 2010
Universal Pictures
Yin Yang Yo!
November 19, 2010
The Weinstein Company
Around the World in 79 Days
August 26, 2011
Warner Bros. Pictures
It's the Wolf!
April 20, 2012
Warner Bros. Pictures

Pearl & Wagner: Five Days Till Summer

June 8, 2012
Universal Pictures
Skippyjon Jones II
September 7, 2012
Warner Bros. Pictures
Road Rovers 2: The Revenge of General Parvo
November 30, 2012
Warner Bros. Pictures

The Tremendous 12

January 4, 2013
Warner Bros. Pictures

Entertainment One

Banjo the Woodpile Cat
February 8, 2013
20th Century Fox
Motormouse and Autocat
March 29, 2013
Warner Bros. Pictures
Fritz the Cat
April 19, 2013
Metro Goldwyn-Mayer Pictures
Bad Kitty 3
August 9, 2013
Universal Pictures
The Art Appreciation 2: The Senior Semester
June 6, 2014
Warner Bros. Pictures
Toot, Whistle, Plunk, and Boom
August 15, 2014
Buena Vista Pictures (through Walt Disney Pictures)
Cattanooga Cats
October 17, 2014
Warner Bros. Pictures
Yogi Bear 2
January 16, 2015
Warner Bros. Pictures
Martha Speaks: The Movie
April 17, 2015
Universal Pictures
No Bully Zone
July 3, 2015
Columbia Pictures

Fox's Island 3

July 17, 2015
Paramount Pictures
Texas Cats
June 24, 2016
Warner Bros. Pictures

Fox's Island 4

May 12, 2017
Paramount Pictures
The Talking Tom Movie
August 11, 2017
Columbia Pictures
The Animated Crossover Movie Parody Project
August 25, 2017
Lionsgate
The Adventures of Lolo the Penguin
September 1, 2017
Warner Bros. Pictures
The Ant and the Aardvark
October 14, 2017

20th Century Fox

(United States)


Metro-Goldwyn-Mayer

(International)
Bad Kitty 4
December 1, 2017
Universal Pictures
Top Cat
December 22, 2017
Warner Bros. Pictures
Oswald's Biggest Caper
January 5, 2018
Paramount Pictures
Guess with Jess: The Movie
January 12, 2018
Orion Pictures

Hubert and Takako

January 19, 2018
20th Century Fox (United States)
BAC Films (France)
The Save-Ums' Biggest Adventure
February 2, 2018
Phase 4 Films
Arthur's Antarctic Rescue Movie
February 16, 2018
Lionsgate
Rock Dog 2
February 23, 2018
Lionsgate (through Summit Entertainment)
The Happy Tree Friends Movie
March 2, 2018
STX Films
Franklin: The Movie
March 9, 2018
Dimension Films
Tom & Jerry
March 30, 2018
Warner Bros. Pictures

Felix the Cat

April 6, 2018
Universal Pictures
Hoodwinked Three! The Fellowship of the Hood
April 27, 2018
Universal Pictures
Poppets Town: The Movie
July 13, 2018
Paramount Pictures
The Ant Bully 2
July 20, 2018
Universal Pictures
Samurai Bodi
August 10, 2018
Lionsgate (through Summit Entertainment)
Skippyjon Jones III
August 24, 2018
Warner Bros. Pictures
The Ballad of Nessie
October 12, 2018
Touchstone Pictures
The Skylanders Academy Movie
December 21, 2018
Universal Pictures
Barbapapa
February 22, 2019
Warner Bros. Pictures (United States/Canada)
GKIDS (International)
Tina
April 5, 2019
Lantern Entertainment
Sahara 2
June 14, 2019
Warner Bros. Pictures
Miss Witch
October 4, 2019
Warner Bros. Pictures
Top Cat 2
December 20, 2019
Warner Bros. Pictures
Penelope Pitstop
February 7, 2020
Fredbear Studios
Upcoming
Films in development
Title
Ref.
Distributed by
Fox's Island 5
Paramount Pictures
Oggy and Jack's Ultra Fun Adventure: An Oggy and the Cockroaches Movie
Universal Pictures (International)
BAC Films (France)
Gaumont Film Company (France)
StudioCanal (Europe)
Pakdam Pakdai The Movie
Viacom18 Motion Pictures (India)
Lionsgate (International)
Eric Rewritten
Warner Bros. Pictures (United States/International)
Paramount Pictures (International)
Walt Disney Studios Motion Pictures (International)
Bad Kitty 5
Lionsgate
Fraidy Cat
Fredbear Studios
Disco Ducks
Fredbear Studios
Fungus
Fredbear Studios

Slappy Squirrel

Warner Bros. Pictures
The Barkleys' First Canine Movie
Universal Pictures
The Houndcats Returns
Universal Pictures
The Oddball Couple
Paramount Pictures
Rock Dog 3
Lionsgate (through Summit Entertainment)
Bee Brilliant
Fredbear Studios
Haunted Manor
Fredbear Studios

Crash Bandicoot's Insane Adventure

Universal Pictures

Spyro's Treasure Adventure

Universal Pictures
Untitled animated Matthew Broderick film
Fredbear Studios
Direct-to-video films
Short films
More coming soon!
Distributed films
| Title | Release date | Co-production with |
| --- | --- | --- |
| Ocean Waves | May 23, 2008 | Studio Ghibli |
Television series
Title
First aired
Last aired
Original network
Cats Don't Dance
September 19, 1998
May 20, 2007
The WB (1998-2006)

The CW (2006-2007)

Superstars
September 10, 1999
May 20, 2011
The WB (1999-2006)

The CW (2006-2011)

Kyla & Katrina
September 6, 2002
May 31, 2015
ABC
Moody's Point
September 12, 2003
May 28, 2010
The WB (2003-2006)

The CW (2006-2010)

Uberpuppy the Arctic Wolf

September 10, 2004
May 17, 2013
The WB (2004-2006)

The CW (2006-2013)

The Adventures of Boog and Elliot
September 29, 2006
present
Cartoon Network
Lily in the City
September 21, 2012
present
Disney Junior
It's the Wolf!
October 11, 2013
April 18, 2014
Cartoon Network

The Adventures of Claudette & Fleet

March 25, 2014
present

Angry Birds Channel

Chicken Little: Trapped
June 20, 2014
September 16, 2016
Disney XD
Cattanooga Cats
September 18, 2015
present
Cartoon Network
Ash & Lance
February 10, 2017
present
The CW
Rock Dog
March 1, 2017
present
The CW
The New Adventures of Top Cat
March 2, 2017
present
Cartoon Network
James and the Giant Peach
November 25, 2017
present
Disney Channel
Belezebub Hoax's Baphomet County Brimstone Stompers
October 6, 2018
Preschool Antenna
The New Adventures of Robin Hood
February 20, 2019
Disney Channel
Miniseries
Television specials
Cancelled films
Main article: List of unproduced NicThic projects